The police, together with respective authorities, highlights that during official mandatory isolation in your home the following rules and regulations are obligatory for everyone in isolation to protect your own and others' health and safety.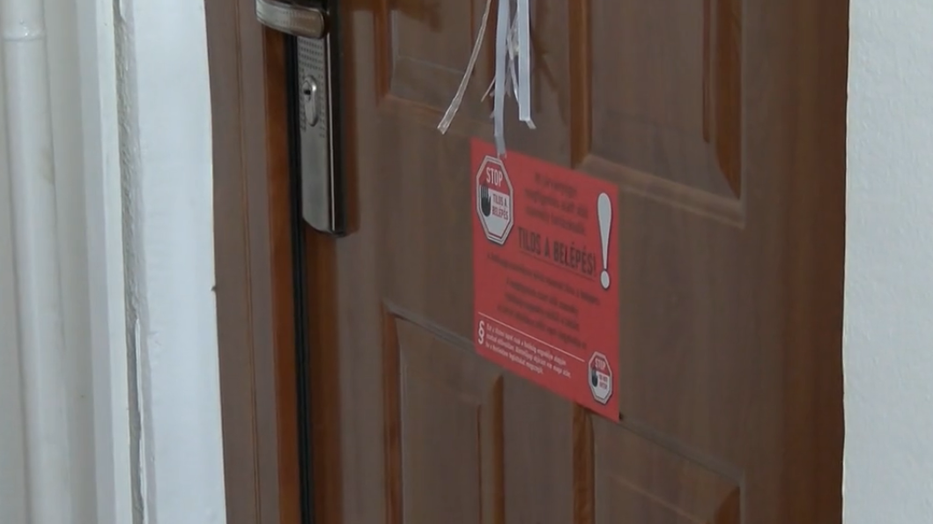 The new Coronavirus COVID-19 spreads very rapidly airborne, therefore to avoid mass-infection the most important thing we have to do is not to infect one another. People who are potentially infected or infectious could be placed in mandatory official isolation in their homes.
During this extraordinary epidemiological procedure potentially infected but asymptomatic individuals are obliged to stay in their homes. They are not allowed to have visitors. They are obliged to place a red sticker (pictured) on their doors, which informs readers that there is a person in the house who is under epidemiological surveillance. Breaching the rules of official home isolation constitutes as a felony.
If you are under epidemiological surveillance, you are not allowed to leave the area designated for you to be at. You are only allowed to have human interactions when you follow prescribed preventive rules. You are obliged to comply with the medical authority's regulations and to cooperate in enforcing them.
Furthermore, you are obliged to
stay in your home during the period of epidemiological surveillance without ever leaving. You are not to have visitors.
use, clean, and contain your own tools, objects, household items (plates, glasses, cutlery, etc.), textiles (clothing, towels, bed sheets, etc.) in your home.
have a prior discussion with your doctor in case of necessary medical care before you would do anything else.
call your doctor immediately in case you develop respiratory symptoms (fever, cough, shortness of breath). You are obliged to follow the doctor's guidance.
have the red sticker given to you displayed on your door at all times.
In case you are in home isolation, you have to dispose of your household garbage wrapped in double bags. You are allowed to interact with the mailman, home delivery couriers. These interactions are not considered close contact. You are allowed to receive groceries brought to you by a loved one. If you do not have anyone to help you, the municipality will take care of your groceries.
Until 18 March, there have been 2800 people placed in official mandatory home isolation.